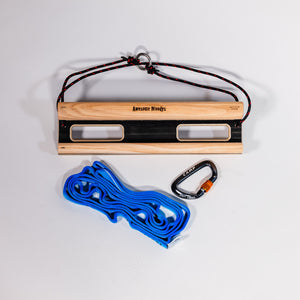 The Complete Kit
to set up your Cliff Board Micro
virtually anywhere
and
start training immediately!
The Kit comes with..
Cliff Board Micro                              
Camp Daisy Chain
Camp, Orbit, locking carabiner                                                                                        Normal Cost for all this gear is $191.95                                                                                                                               
                                       Exceptional Value at $169.95                                                                                                                                    
Yes, that's all you need, to have your own portable training/warmup kit, for at home, on the road, or at the cliff.

This 2 sided fingerboard is also full of useful skin friendly features while being compact and totally portable.
 With
 

2 quick-adjust cord positions,
  you can train systematically on edges and slopers. 
The Cliff Board Micro™ is a great tool for recruitment and getting those fast twitch fibers primed for your project of the day.